For Your Eyes Only: 30 Offline Paintings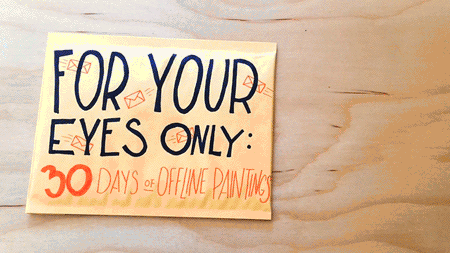 For Your Eyes Only: 30 Offline Paintings
👀 Get an original painting, for your eyes only!
TL;DR: I'm aiming to raise $500 or more for legal aid for kids at the border by mailing people mystery paintings I won't share anywhere on social media.
Molly's daily art project for the month of September is doing a daily watercolor painting and NOT posting it to social media anywhere – all paintings will be mailed to people, and seen for the first time when you open your envelope!
Allow some surprise art into your life, and help raise money for a good cause. The earlier you get your painting reservation in, the earlier I'll start thinking about what painting I want to make for you. You're welcome to suggest a subject or theme for the painting in the order form below, but I cannot guarantee fulfilling any specific requests.
Click here to view more samples of my paintings. You can except these paintings to be in a similar style to what you see on my Instagram profile.
❤️ 50% of all proceeds* will go to KIND (Kids In Need of Defense), an organization that provides legal representation to migrant children and lobbies to ensure their rights are protected. ❤️
――――――
All paintings will be mailed by October 10th, 2019. No returns or refunds, unless your painting arrives damaged. Paintings will be between 4-6". I may share the painting online sometime in the future, but will not share it any earlier than November 2019.
*Why not 100% of the proceeds? I have a hard time accepting money for my art, and so I'm practicing letting in financial support for my art practice by keeping 50% of the profits. I also make monthly donations to RAICES, SURJ, and a number of other local organizations working for economic and racial justice. The more income I make, the easier it is for me to increase my existing monthly pledges.