Books & Zines
Ever since becoming the editor of my 6th grade school newspaper, I've been hooked on designing print publications. I've co-founded several magazines over the years and lately I've been writing, designing, and hand-making a lot of zines.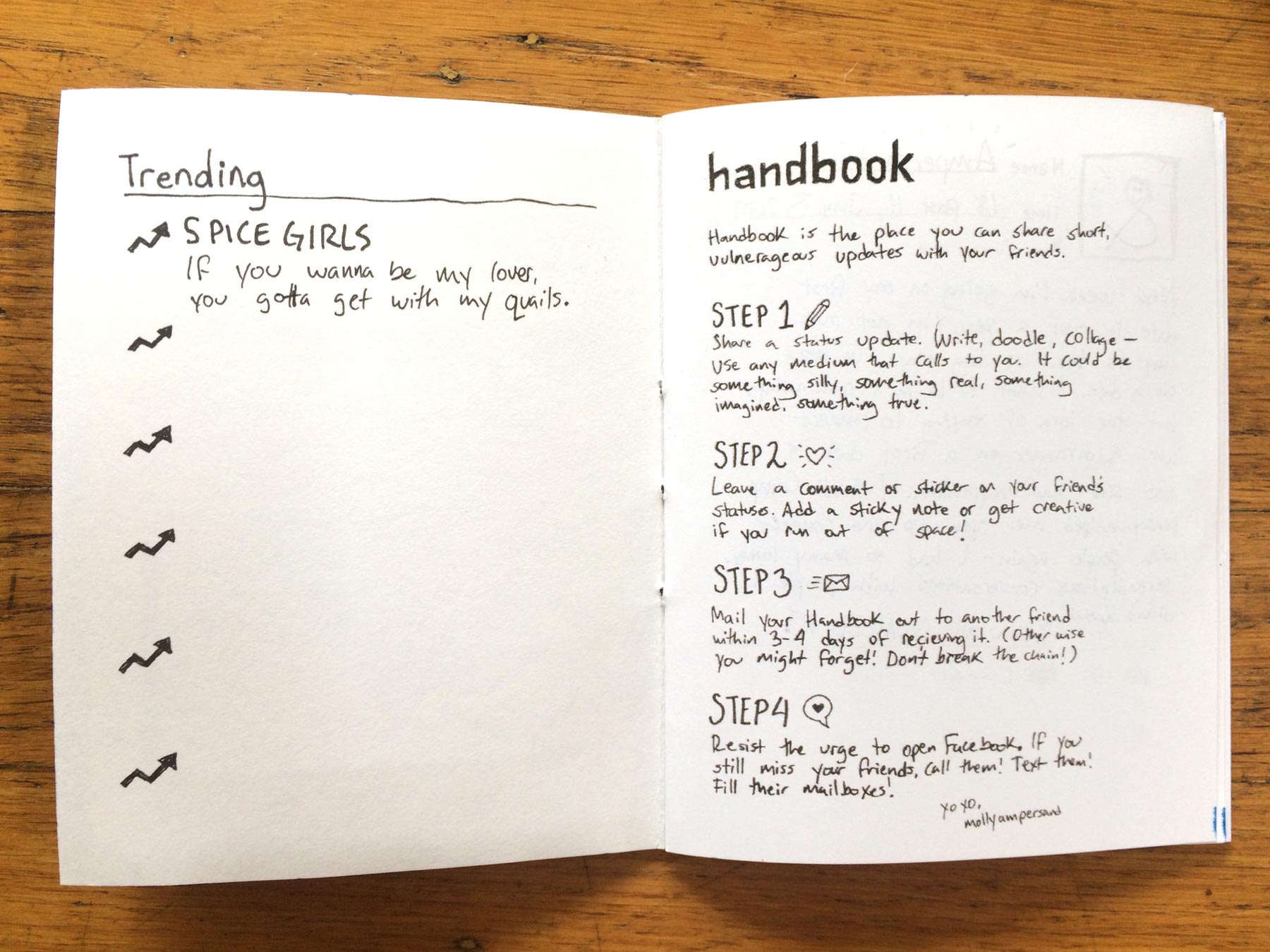 Handbook (2017)
It's like Facebook, but better! Handbook is the place where you can share short, vulnerageous updates with your friends. Inspired by my experience at Camp Grounded.
Handbook is free! But you're welcome to make a small donation if you appreciate my time and efforts. (I'm a working artist trying to make a living in the Bay Area.) Email me for the files and I'll send you the files and simple instructions for how to put together your own Handbook — even if you don't consider yourself crafty.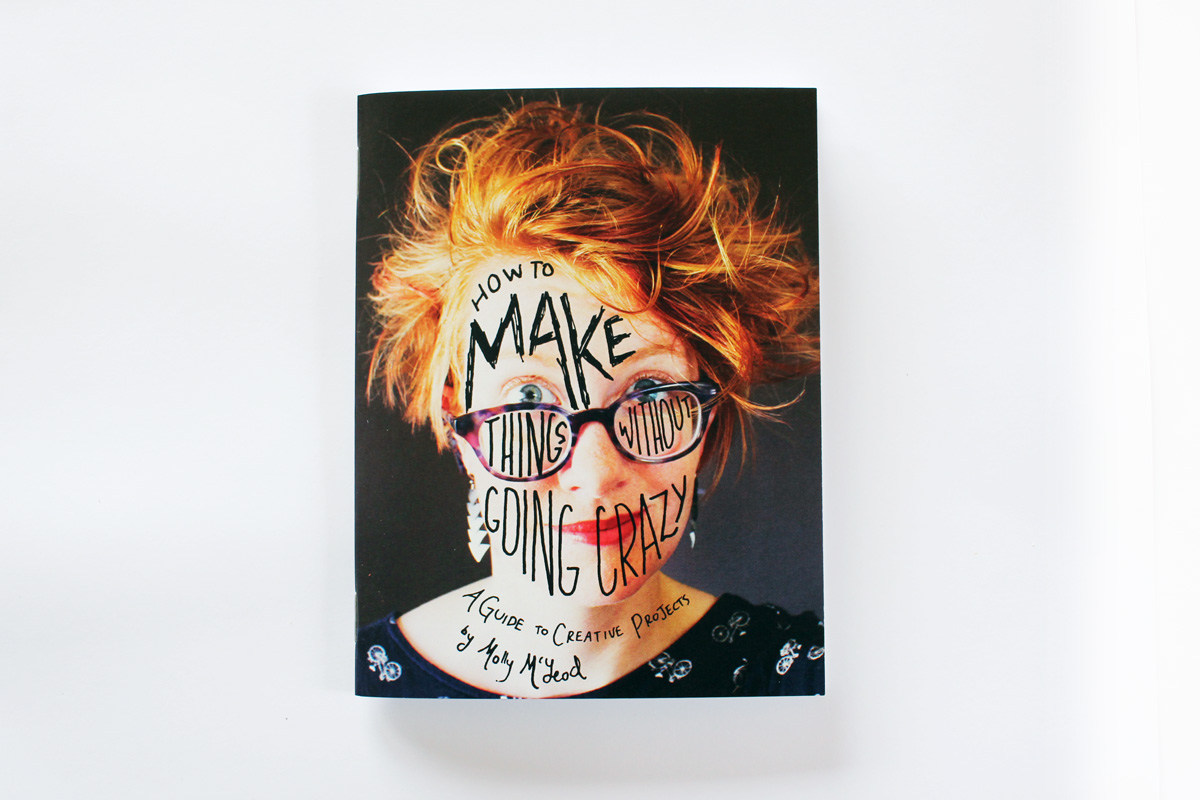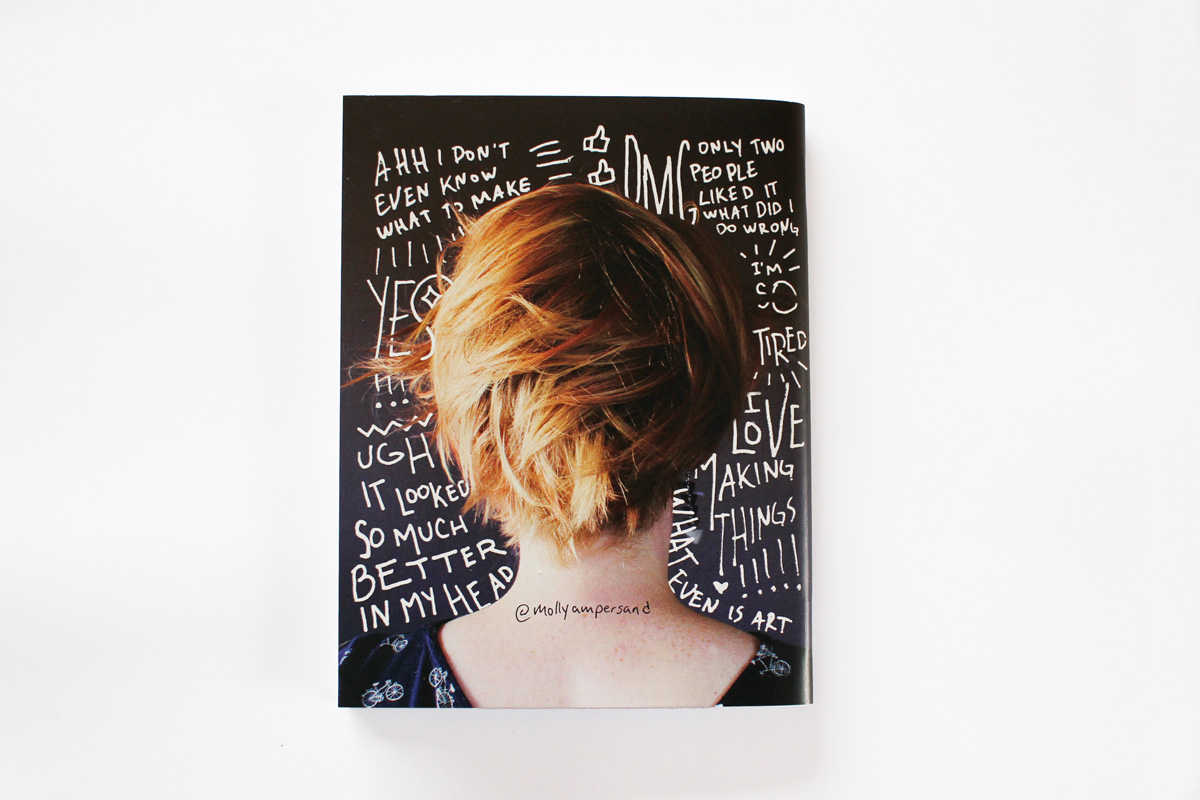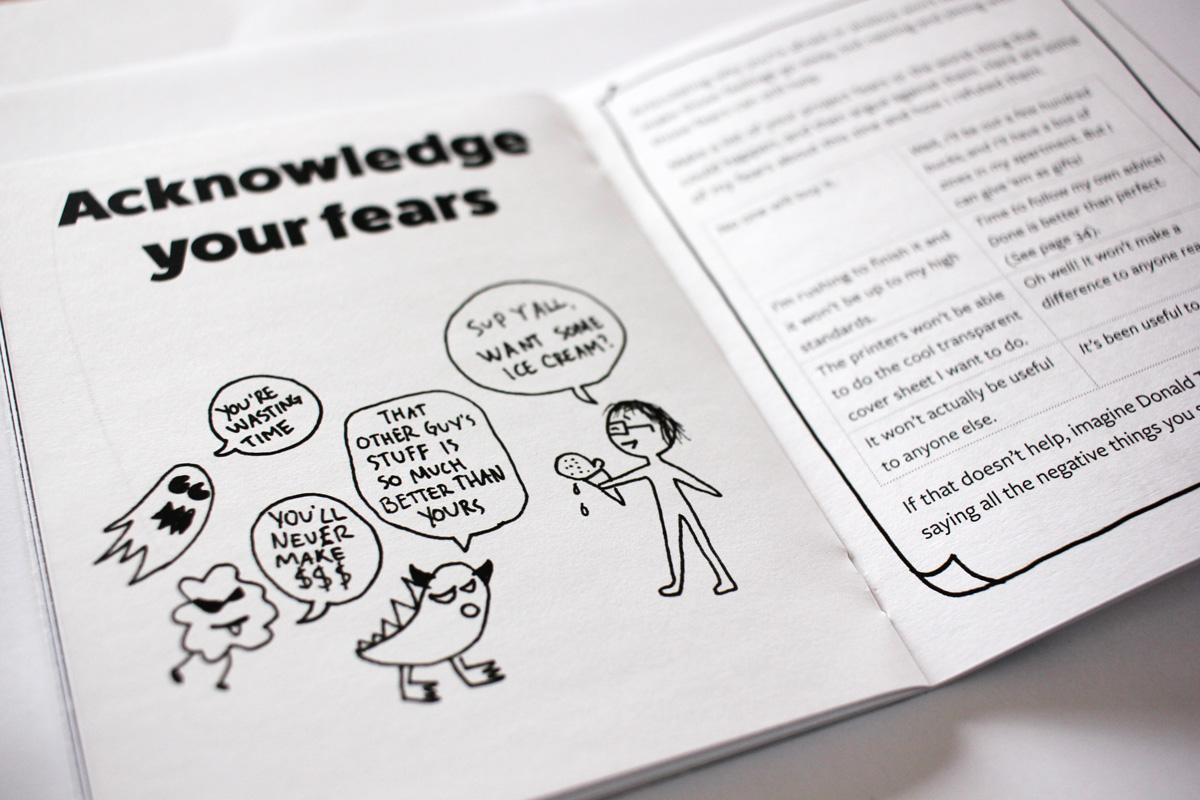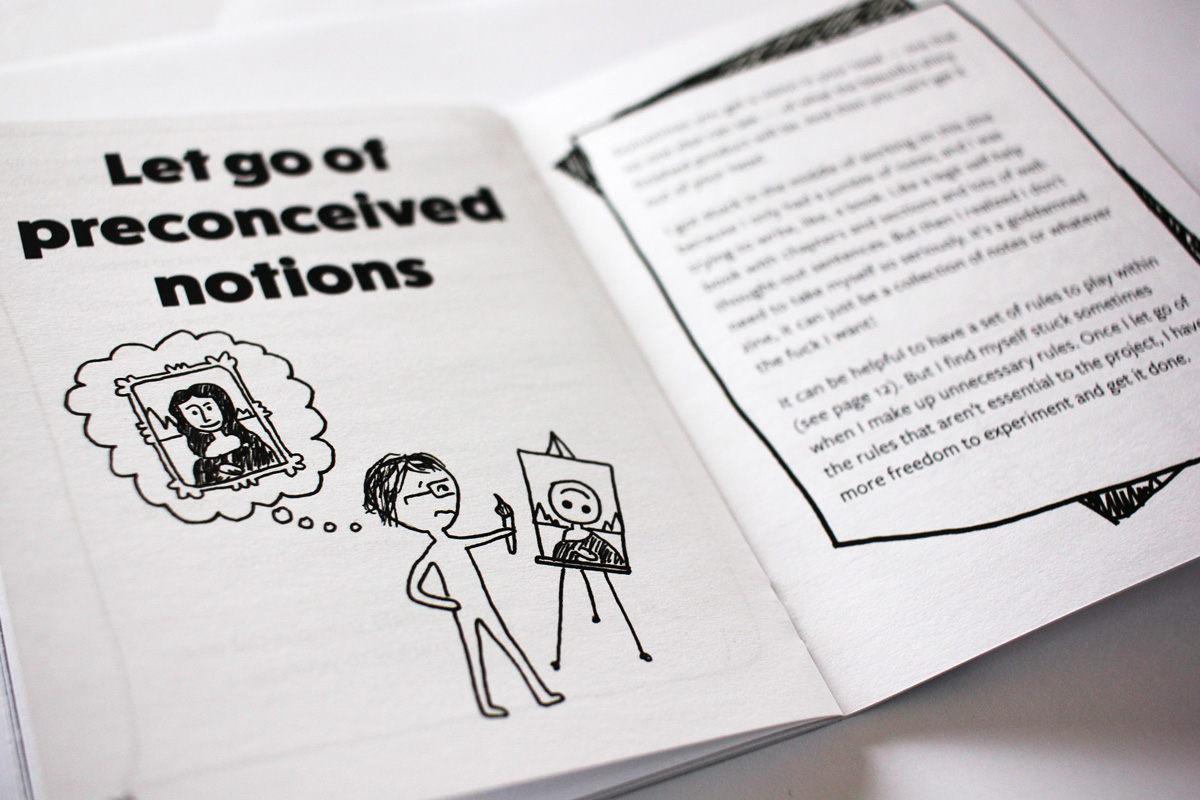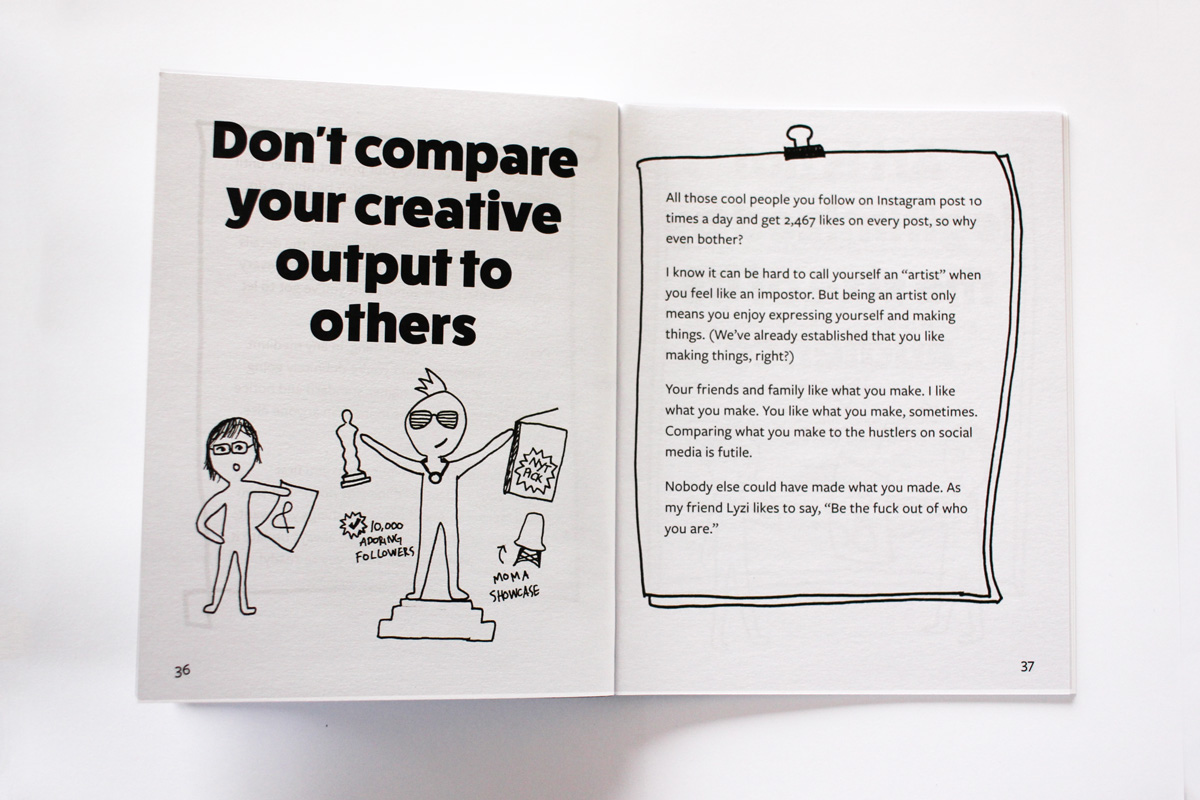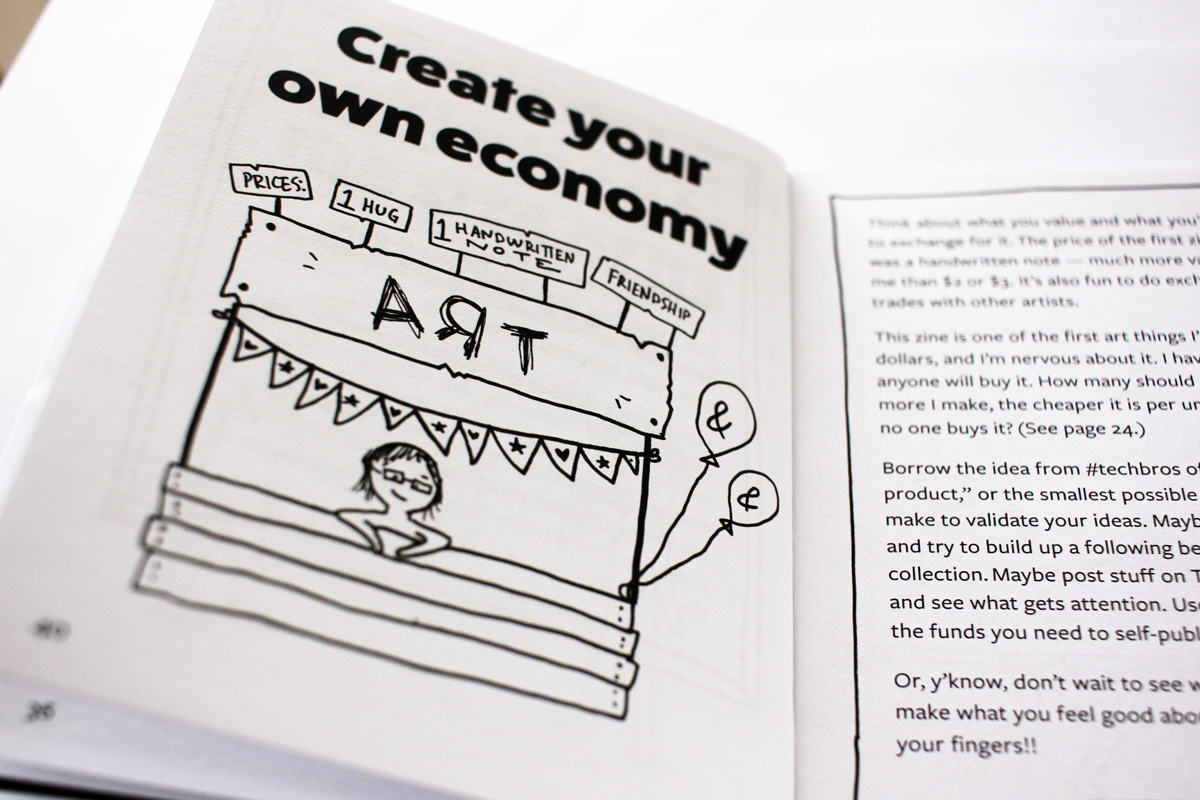 How to Make Things Without Going Crazy (2016)
Sometimes you want to make something, but you can't figure out what to make. Sometimes you start making something and get stuck. Or you hate what you make. You finally finish and you don't even know what to do with it. Or you share it and it doesn't get as much attention as you want.
I'm here to help! This guide has advice for coming up with ideas, getting through the trough of making something, and how to let a project go.
M Dashes Zine – Issue 2 (2015)
M Dashes contains thoughts on life, death, technology, and friendship. Most of the content I originally wrote for my newsletter of the same name. I've written about texting, sharing things on the internet VS in person, learning to say no, how to make friends, and more — plus new drawings and stories never before shared with other humans.

Each copy has a unique inner leaf, cut from a coffee table book called America the Beautiful. The inside cover is hand stamped. The back cover has a block printed ampersand, and a hand-painted edition number. The binding is hand sewn with a nice purple waxed bookbinding thread. It's a hand-crafted local organic gluten-free non-GMO limited edition run of 40 copies!

The price is one handwritten note responding to the question, "What do you think about?" It can be a list, a drawing, a paragraph, a chart, a map of the inner workings of your mind hastily scrawled on a series of sticky notes, or something else. Don't overthink it. EDIT: SOLD OUT
M Dashes Zine – Issue 1 (2015)
The Ampersand Project (2010)
The Ampersand Project was my thesis project at Hampshire College. I wrote, designed, and published and edition of 125 distinct but complementary books about typography, centering around ampersand (the & symbol).
I also created an educational and interactive art installation all over campus. I believe the ampersand is a fun, accessible entry point for learning about typography.
The Blue Ampersand Book
The Blue Ampersand Book (26 pages) consists of photo-illustrations of plasma-cut metal ampersands alongside the history of each font and it's intended usage.
The Yellow Ampersand Book
The Yellow Ampersand Book (26 pages) uses the ampersand as a metaphor for connection, collaboration, and compromise as an entry point to short essays about design, education, and social change.
The Red Ampersand Book
The Red Ampersand Book (14 pages) features a collection of sculptural ampersands that engage the senses and the imagination, ranging from an ampersand lamp (lampersand), to ampersand wind chimes, a cookie cutter, a pillow, and more. I wanted to show that graphic design can be tactile, edible, audible, interactive, and emotional.
Ampersand Scavenger Hunt
During May 2010, the Hampshire College community was challenged to learn about typography by finding the 10 metal ampersands installed all over campus. Next to each ampersand were collectable flash cards with the history and intended usage of each font. The Ampersand Project was also featured in the Design, Art, and Technology gallery show.